Hello! My name is Kazmyn Paschal, and I'm entering my sophomore year at Academie Lafayette International High School and finished my summer internship at EAG Advertising & Marketing.
When I came to EAG for my interview, I was so nervous because it was my first one. I was terrified at the thought of them asking me questions like, "Why do you want this job?" However, I knew that I had the skills and experience needed to be successful in the role, and I was determined to show the interviewer that I would be the best fit for the position.
My school counselor told me I should make a resume and check out EAG's website. The website helped a lot to understand what they do at this company, but I really couldn't answer the questions with anything better than saying, "I would like to learn about the field of marketing and advertising and see if it's something I enjoy learning about since I have a small business myself." After getting the job and working here this summer, I'd say that this was a pretty cool job to acquire knowledge about.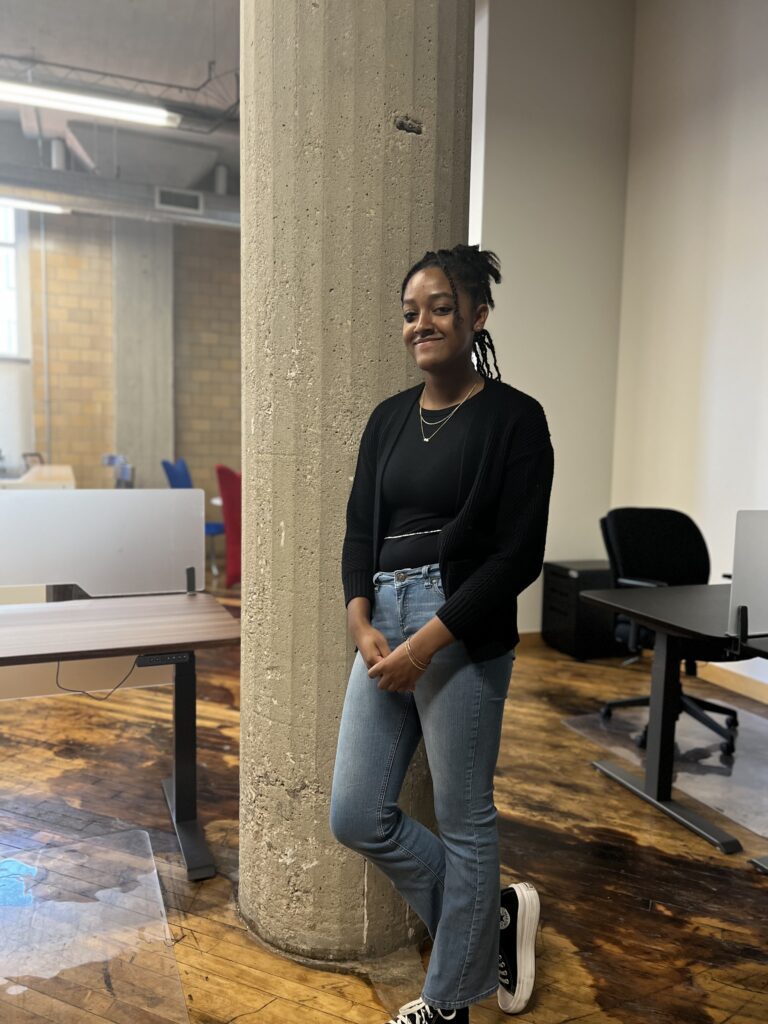 While interning at EAG this summer, my friend, Giselle, and I participated in and observed many splendid projects. Some of my favorites were making a podcast, learning how some of the employees do their unique jobs, and helping with the Rock Island Bridge project, which I recommend everyone check out once it opens.
I got to work a lot with Mr. Theo who is the marketing coordinator. He helped me and Giselle get our podcast started and taught us so much about the podcast world. We learned how to talk fluently while recording so we won't sound like machines, how to edit our episodes, and even help design some of the elements like music choice. It was very cool getting insights on these things from a guy who worked in radio in his career. Before this experience, I'd only really listened to music and had never tried listening to a podcast because most that I'd seen were at least an hour long. I wondered who would want to hear me talk for a 30-minute episode? I'm not that interesting as a person. After listening to some podcasts like The Read, The Friend Zone, and The Know for Sure, I found a new love for them and had more confidence about speaking on the mic. As a child, I would record myself cooking, vlogging, singing, and so many things but never would take it seriously. Using Cakewalk and learning how to produce helped me make my podcast a success and helped me enjoy them like I enjoyed making videos as a kid.
When I wasn't working on my podcast, I learned about the other employees' jobs at EAG. Some of them seemed a little overwhelming, but some were pretty unique and fun to learn about. The job most interesting to me was Mrs. Erin's role as director of campaign strategy. She showed us how you can see if websites are thriving and what you need to grab your audience's attention. I was a little freaked out about the fact that when you scroll through campaign ads, they can see where you stopped to read and what you skipped through. That was never in the handbook when I set up my phone… Jokes and all, it was very interesting to see how people make a profit off of ads and how it's so much like stocks. Personal opinion, stocks make no sense to me, but this did.
Lastly, during the weekly team meetings, I learned about the Rock Island Bridge, and I helped with a research project. I can't wait to attend an event there once it's open. My project was to write a Wikipedia page for the RIB. It was the most challenging research I had done because the story starts in the 1900s. Some days, I had to make calls to get answers to questions.
After being at EAG this summer, I can go back to the world smarter than I was with a lot of new knowledge about marketing and advertising. Thank you for this amazing opportunity, and for letting me branch out of my box to try something new. I know that internships like this are very uncommon, and I truly enjoyed meeting each of your employees. All of you made this experience worthwhile. Au revoir!
Kazmyn Paschal
The interns have taken over the podcast! Click here to join our 2023 Summer interns Kazmyn and Giselle as they walk down memory lane on a special edition of the Small Business Miracles podcast.
Subscribe: Apple Podcasts | Google Podcasts | Spotify | RSS