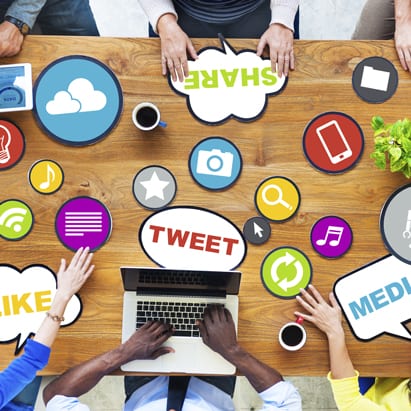 Two forces are at play in social media today. One: the majority of consumers will search for your company online before doing business with you. Two: Small business owners are too busy to be social media savvy and can lack the resources to keep up on the social scene. Having a social media consultant can help you come out ahead, while protecting your brand reputation.
The trick is finding a social media consultant who doesn't just claim to be an expert, but also has the background and knowledge to prove it. That's where we come in with the knowledge, expertise and tools to create a social media campaign that's right for your business.
Making Social Media a Lucrative Part of Your Holistic Marketing Strategy
A lucrative part. Those are the key words. Business does not thrive or die by social media alone. Though a misstep can certainly cause damage to your reputation, and your sales. Social media is just one part of a holistic marketing effort. Facebook fans and hashtags do not equate to dollars without careful planning and management.
Is Twitter right for you? Have you mastered LinkedIn? Do you even have time to learn about various social media tools? No worries. We can help.
Social Media From Strategy to Etiquette
Social media has the potential to make better business owners and company ambassadors.
Before social media became a marketing channel, customer feedback came by telephone, letter, surveys and comment cards. Giving feedback required effort on the customer's part, whether licking a stamp or picking up the phone. Any effort was enough to stop many from sharing their opinions. Now feedback is as quick and easy as Facebook. Even people without direct contact with your company can chime in and post what they please.
EAG develops your social media policy vital to business today. We use traditional good manners and etiquette to make your business stand out among the crowd. And in the end, you'll have a safe and sound strategy with guidelines that let you:
Commit to active participation
Say thank you with sincerity
Ask only the questions to which you really want the answer
Strike a balance between speaking and listening
Respect the concept of Internet time
Social media also serves as a key component of lead generation strategies, when utilizing tactics like Facebook promoted posts or Twitter lead gen cards. When wrapped together, your brand can generate more than just buzz with social media.
Give People That Warm, Fuzzy Feeling About Your Company
At EAG, we specialize in establishing and integrating social media in all aspects of your small business marketing strategy. We partner with you to develop fresh, relevant content that reflects your brand.