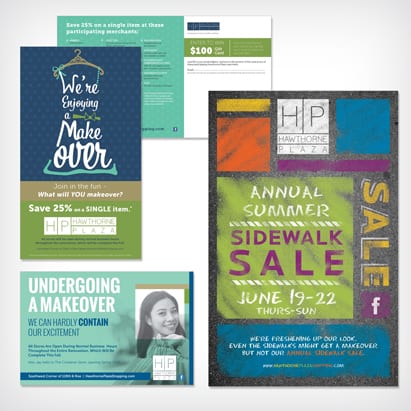 This is the perfect time to be a small business. The days of TV advertising domination are long past. Today, good advertising is targeted, emotional and connects with individuals when they are ready and willing to buy. Think your email or snail mailbox is already too cluttered? No worries. We break through the clutter everyday with compelling, creative advertising. More importantly, we put the right mail in the right mailbox so that your message is ready for those who buy.
What's different about small business advertising and direct marketing? Nothing more than scale and quantity. The same strategies and tactics used by the biggest brands are accessible and affordable for any size company.
There are many well-qualified advertising agencies and freelance graphic designers in Kansas City all ready to help companies create advertising messages. But for a small business the challenges are quite different. Small business advertising needs greater 'punch' to break through the competitive clutter. Small business advertising must be highly targeted and efficient. And small business advertising must have longevity.
At EAG we spend considerable time helping our clients achieve economies-of-scale with their marketing efforts. We act as their marketing department, ensuring that all advertising and marketing initiatives are cohesive. Every penny counts for any size business. We understand that and our clients appreciate it.
There are a tremendous number of advertising agencies, marketing firms and individual marketing consultants in the Kansas City metropolitan area. How do you pick the right one to assist with your advertising and direct marketing needs? That can be a significant challenge.
By all means, begin by asking friends and associates for referrals. In today's social media environment, a great referral is only a click away on Facebook, LinkedIn or other social media platforms. Look for an advertising agency or marketing consultant that works with companies similar to yours.  Similarity in size is very important.  So too are the mediums in which the advertising agency or marketing firm work. In today's era of specialization, many advertising and marketing companies have a narrow focus which may not serve some businesses well.
Advertising and direct marketing are very broad terms. A marketing or advertising company that speaks to these mediums implies an understanding or expertise in media buying, graphic design, branding, direct mail and tools used in targeted marketing. Advertising and direct marketing are not necessarily mutually exclusive terms. Advertising can be targeted and focused while direct marketing can also be broad and far reaching.
EAG is an advertising agency and a marketing firm with a very holistic, if not academic approach to marketing. Within our experiences we have used graphic design elements with all the traditional tools such as direct mail, online marketing and broadcast or print advertising. But we also use our experiences to find non-traditional advertising vehicles that break through the clutter. After all, when it comes to advertising and marketing, it's good to be seen.