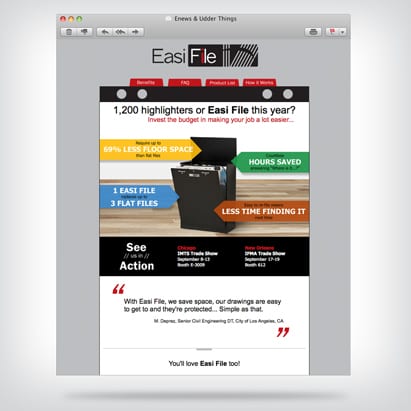 Newsletters. Email marketing. E-newsletters. Printed and mailed newsletters. Regardless of what you call them or how you deliver them, communicating with your customers using newsletters and/or email marketing is a viable, effective means of brand communication.
EAG has received the 2010 All Star Award from Constant Contact®, Inc., the trusted email marketing advisor to more than 400,000 organizations worldwide. EAG is one of Constant Contact's 2010 top performers and most prolific users of its tools, whether within Constant Contact's email marketing, event marketing, social media marketing or survey products – or a combination of all four.
Although we use Constant Contact for many EAG clients because of its market acceptance, we also use a number of other email marketing systems when requested by our clients, like Mail Chimp or Marketo. Constant Contact has given us the greatest support and widest array of user tools over the past seven years, but we are skilled at using a number of email systems.
E-Newsletters
Many EAG clients use e-newsletters or email marketing to reach their customers on a continuous basis. When fully integrated into a social media, web and email marketing effort, e-newsletters are a powerful tool for businesses of any size.
Email marketing and e-newsletters appear for every type of business, in every category and of every shape and form. Like printed newsletters, great e-newsletters begin with a story worth reading and great copywriting. Story telling in a newsletter can capture a customer's attention and engage that customer on an emotional level. The combination of graphics, headlines and compelling content makes a customer stop, read and remember.
Email Marketing Best-Practices:
Email marketing is permission-based marketing. Spamming is a direct reflection on your business and is discouraged. Learn what constitutes "permission" in today's environment.
Be consistent with your delivery date and the tone of your message. Consumers scan e-newsletters and email marketing. You must stop the eye quickly, capture the reader's attention and then lead them to want more.
Graphics play an important role in e-newsletters and email marketing. Don't neglect a good photo or video in your email marketing campaigns.
Printed Newsletters
A great printed newsletter connects with customers on many levels. Printed newsletters are visual, tactile and have a shelf-life that e-newsletters don't possess. Printed newsletters can lie on a kitchen table for weeks or, even better, can wind up tacked to a bulletin board or hung with a refrigerator magnet.
Print Newsletters Best-Practices:
If sending your newsletter by mail, list hygiene minimizes waste. More importantly, there is nothing more discrediting than sending a newsletter to an individual who has not been at the location for quite some time.
Be consistent when preparing and delivering a newsletter. Creating a consistent touch point with customers and prospects is the ultimate goal. Don't start, stop and then start again.
Be strategic in how you select your newsletter content by answering these two questions:

Will the reader really care when they read this story?
What do I want the reader to do or how do I want them to feel after reading the newsletter?
Merging Traditional and Digital Advertising
At EAG, we know a thing or two about merging traditional and digital advertising. Taking a tried-and-true business tool like a newsletter and merging it with online and digital marketing solutions is paramount for getting the most bang for your buck. If you're looking to integrate existing and new marketing technology, you won't find a better partner than us.